CHART GOLD HOLDINGS IN EXCHANGE TRADED PRODUCTS COURTESY OLE HANSEN SAXO GROUP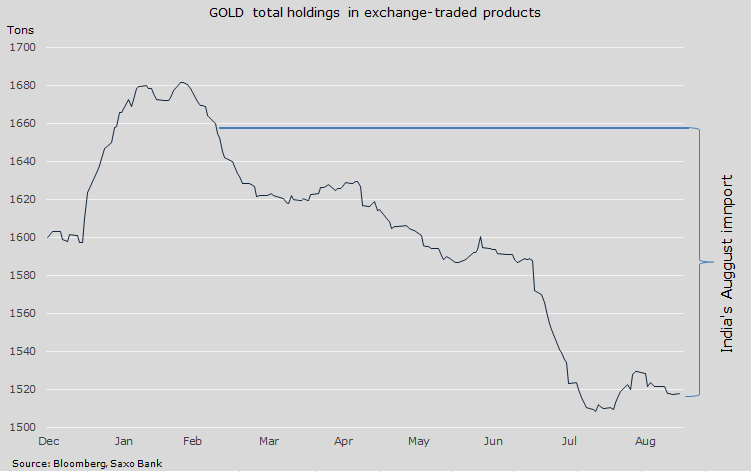 The above chart tweeted by Ole Hansen  reflects two important fundamental  developments – further clearance of the overhang of speculative gold in Exchange Traded Products and a significant revival  in Indian demand that needs to be reviewed in relation to the Indian Government's initiatives to monetise gold hoarded in the country aimed at reducing future imports.
Speculative interest in gold may also have been  spiced up by the current political impasse over the US Budget that must be resolved by the end of September to avoid any shut down of Government activities.  This is potentially unsettling.  But  the issue will almost certainly be resolved without any shut down that acually interrupts significant Government activities.
Financial markets are already  unsettled by these and other  concerns including economic problems  in China  and recent revelations on Volkswagen's deception on emission measurement – serious on its own and possibly involving other manufacturers.  These concerns may also have influenced increased  speculative interest in gold. But,  unlike the important  supply and demand factors illustrated in the chart above,   they don't affect fundamental supply demand dynamics.